Boreal
Hall


Size: 3-12 Storeys

Program: Student Residence

Year: 2022-23

Status: Concept / Promotional

Collaborators: Element5 (Mass Timber Fabrication + Structural Engineering), Tango Studio (Rendering + Graphic Design)

JC-A worked with Ontario-based mass timber supplier

Element5

on promotional material to develop cost-effective student housing for various colleges and universities. A variety of unit types and floor configurations were designed for optimum dimensional widths, lengths and spans of cross-laminated timber (CLT) for off-site fabrication. The goals were to reduce material waste, control costs, offer adaptable building arrangements to suit different site locations, building heights, and a variety of sustainable exterior cladding options.
Cladding Options
Unit Layout with Kitchenette

Typical Floor Plate
Bellwoods
Duplex
Semi


Size: 3 Storeys

Program: 2 Unit Private Residence

Size: 3 Storeys, 162m2 / 1,746 sf above ground

Year: 2022-Present

Status: Construction Documents

Collaborators: Contact Engineering (Structural Engineering), Elite HVAC (Mechanical)

This project involves the renovation of an existing 2 unit semi-detached home near Toronto's Trinity Bellwoods Park. The homeowner chose to focus on crafting a tailor-made design of the lower unit for their own use, reserving the upper unit as a 2 bedroom rental. A full-height lightwell will be carved from the front yard landscape, bringing daylight down to the new floor level of the underpinned basement. In the rear yard, an existing single storey extension will be removed to create a more generous outdoor seating area. The basement area will be extended slightly into the rear yard, with a skylight located over a new bathtub enclosure. Each façade will be reclad and reinsulated, with the mechanical system upgraded to an energy efficient heat pump. The front façade is an architecture of collage, harmonizing an existing wood Tuscan column with existing painted brick with new oriel windows, stairs and wood screens. For the interiors, the goal is similarly to bring coherence between old elements from the home (intricate patterned hardwood floors, cove ceilings), the client's own highly curated and excellent mid 20th modern furnishings, and new natural materials and contemporary flourishes.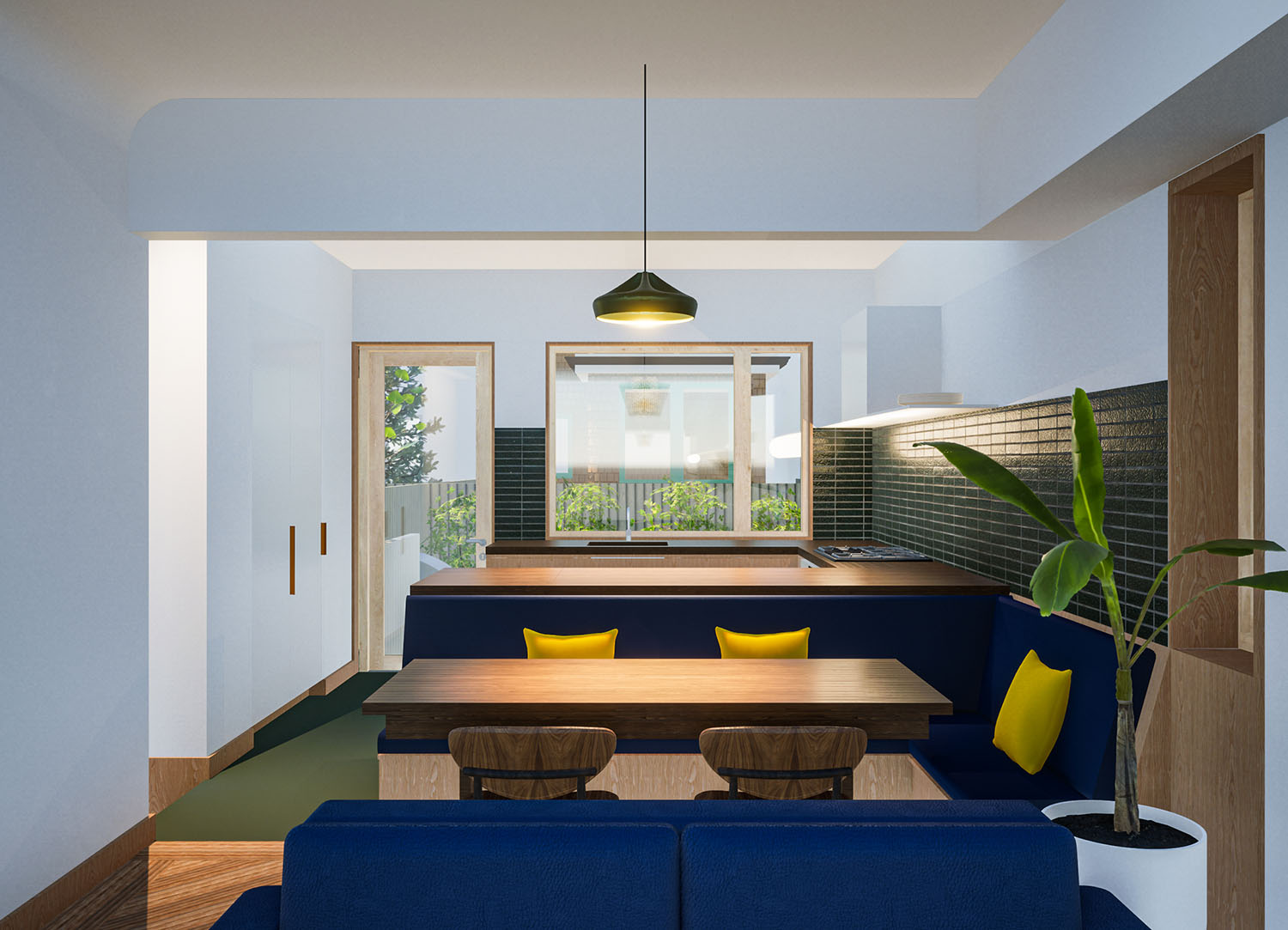 Cambridge
Fourplex



Location: Cambridge, Ontario

Size: 2 Storeys, 465m2 / 5,000sf above ground

Program: 4 Unit Rental Housing

Year: 2023-Present

Status: Zoning By-Law Amendment

Collaborators: CivilGo (Civil Engineering), GSP Group (Planning)

Designed for a small-scale developer/investor with a firm presence in the local community, this multiplex rental housing will add much-needed, modest density in a traditional established neighbourhood in a small-mid-size Ontario city. Traditional wood stick frame construction along with cladding of brick and clapboard siding, and conventionally-sized, catalogue-ordered windows and doors aim to keep construction costs modest. The arrangement of materials and rooms are intended to clearly relate to the often-multi-coloured 19th/20th century North American siding and brick homes nearby, but done in a contemporary and unconventional design. Two 3-bed and two 2-bed units will provide space for either families or university students. Each unit will have ample outdoor walk-out space either at ground or on terraces. Upending the custom of secondary suites in basements, the smaller 2-bedroom suites will be located at the upper level. Lightwells to basement bedrooms and recreation areas will bring ample daylight to the interior and views back out to thoughtfully designed landscape spaces.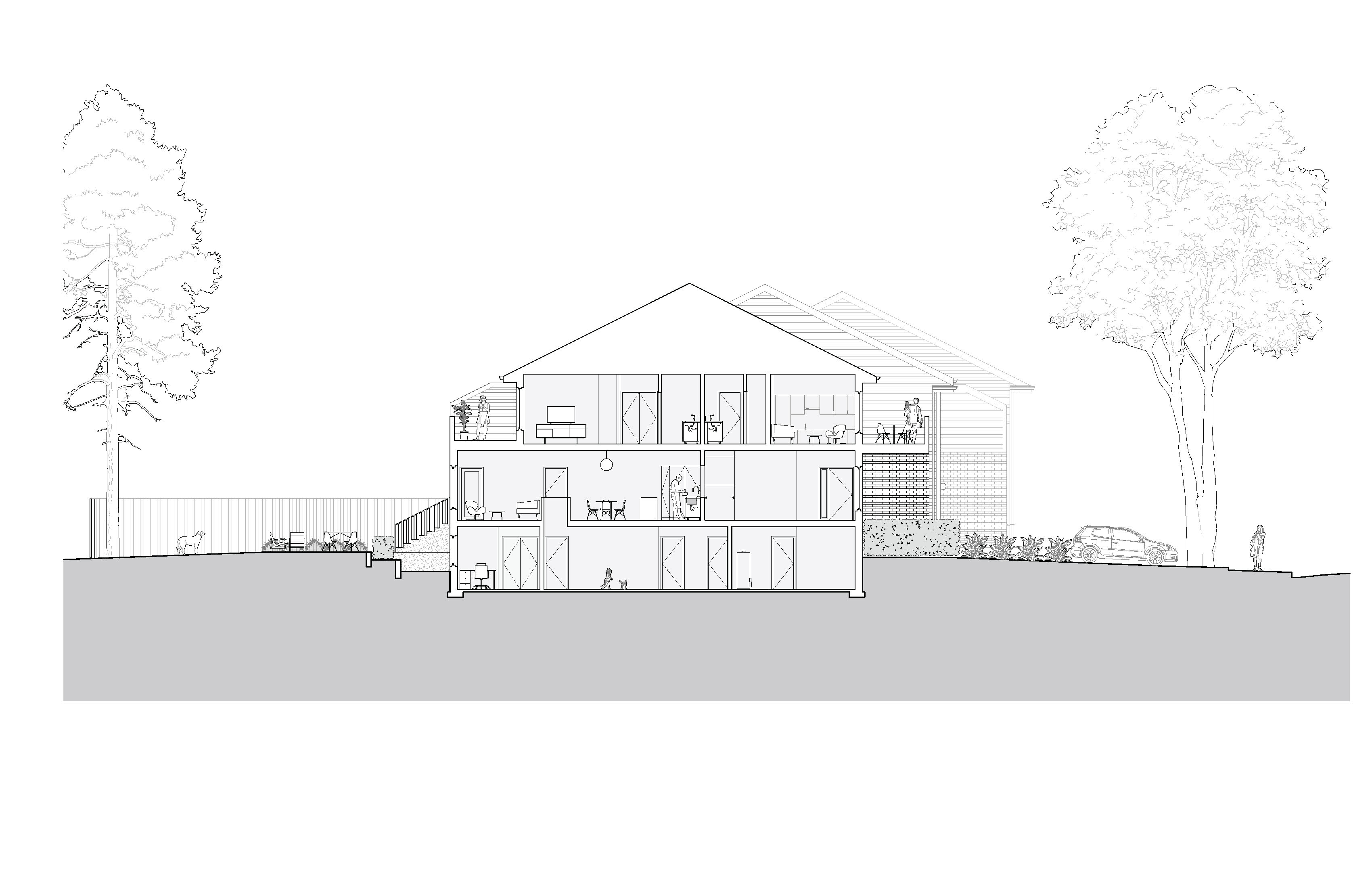 Coach
House


Location: Ottawa, Ontario

Size: 1 Storey, 50m2 / 530sf

Program: Residential

Year: 2021-Present

Status: In Construction

Project Lead: Jon Cummings

Project Team: Jonathan Enns

Collaborators: Logical Builds (Construction), Entuitive (Structural), Elite HVAC (Mechanical), Kollaard Associates Engineers (Civil), Tango Studio (Rendering), Arborist Consulting Ottawa (Arborist)
In 2017, Ottawa formalized into its zoning by-law an allowance for coach houses, elsewhere known as garden suites or secondary dwelling units in the backyards of existing homes for renters or extended family. Situated on a sloping site, rain is collected in barrels to reduce stormwater surges, and to provide harvested water for the homeowner's gardening interests. Highly-insulated wall/roof panels and floor slab forms combine with a heat-pump system to make this is a highly energy efficient home. For the modern aesthetics, cues are taken from traditional wood-clad, pitched-roof Ontario cottage homes with a rusticated foundation. Wood and clay-walled interiors are replete with clever space-saving strategies throughout this comfortable, small home.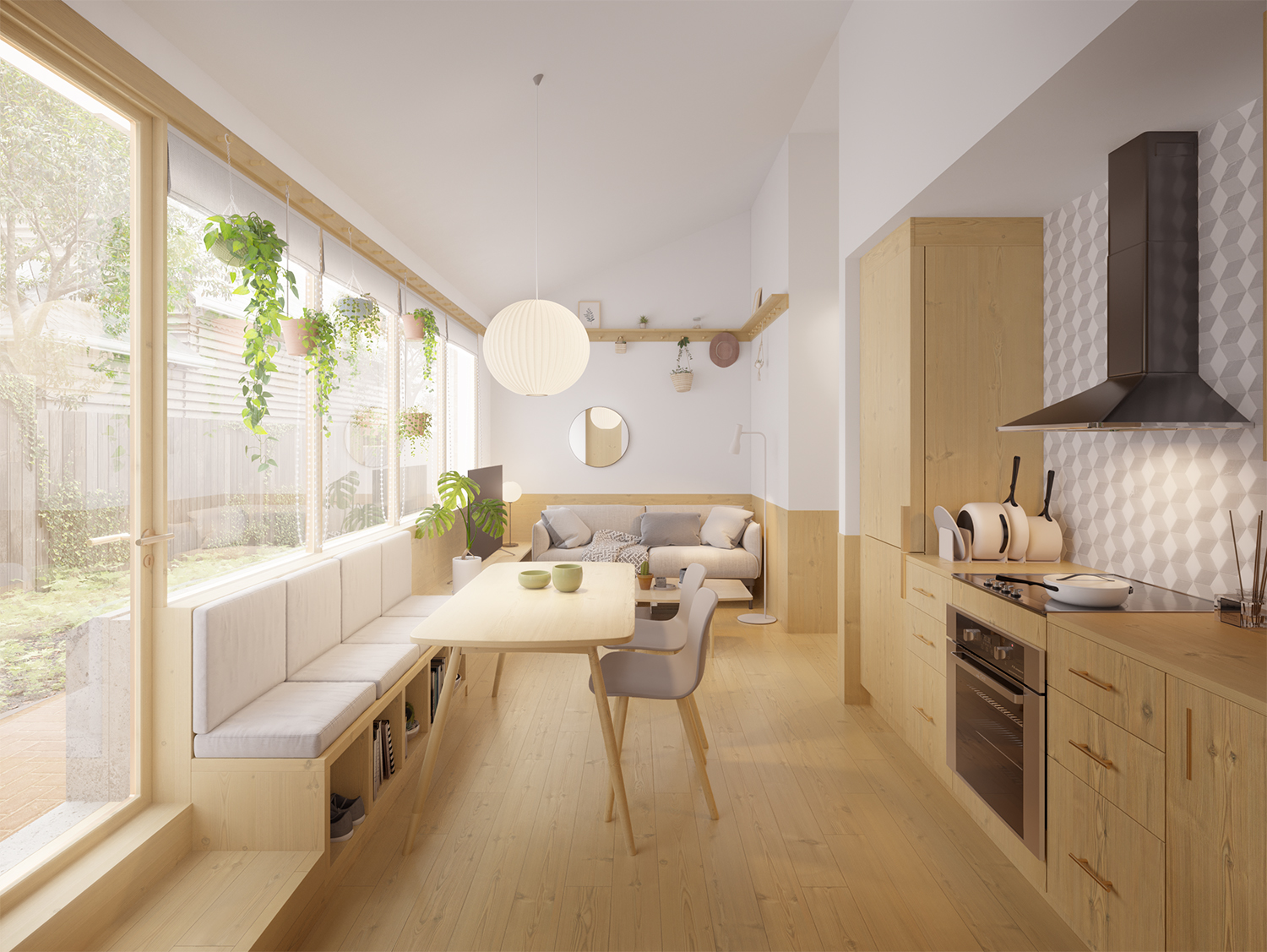 Carpenter's
House


Location: Ferguson Falls, Ontario

Size: 1 Storey, 135m2 / 1,450sf

Program: Residential

Year: 2022-Present

Status: Pre-Construction

Project Lead: Jon Cummings

Project Team: Jonathan Enns

Collaborators: Future Landscapes (Landscape Design, Rendering), JAM Engineering (Structural), Elite HVAC (Mechanical),
Located in rural Ontario, this home will be a self-build project by and for a trained carpenter, and so, understandably, client direction was to design as much as possible for wood fabrication. The design language takes its cues from the local context, where mid-19th century settler structures still stand nearby, hewn from the local trees when land was originally cleared for agriculture. Situated on a triangular site on a rural highway, the elongated building stretches the length of the setback with an austere wall so as to block noise from the road, and open up in the opposite direction to a beautiful sugar maple farm on the adjacent lands.